Interview: Emily Duff of Darling Zine
Creating an absolute storm on the North East music scene is journalist Emily Duff, writer for NE Volume, Into The Pit UK and The Music Files to name a few, after she produced her brand new magazine Darling Zine during the nationwide coronavirus lockdown and sold out its first issue in mere days.
I had the pleasure of reaching out to her to speak a little more in depth about what it takes to create a whole new publication, how it has been received and who inspires her to work hard towards achieving this success.
Grab a copy of Issue Two and check out Emily's work in detail here:
What inspired you to start Darling Zine and who do you hope to reach with it?
I started Darling because as a journalist I tend to write a lot about the local music scene and noticed a serious lack of female musicians. I wanted to do my own research to find more musicians I wasn't aware of and to provide a platform to showcase their talent. However, I also really love writing about film and so by having the three categories (music, art and film) I have been able to delve into topics I don't get to write about as often as well as finding new people who share my interests and so I hope to reach people who share these interests. If you like music, art and/or film then Darling is perfect for you - regardless of what's in your pants.
Design has always been something I found interesting too and by making Darling I've been really able to experiment with this - especially more so in Issue Two.
As someone who is clearly passionate about equal representation in music media, what does it mean to you having a platform through which you can encourage this?
It's a really exciting opportunity for me! As a writer I obviously love discussing what is going on around us and to be able to have my own magazine that can amplify these voices is incredible. I wanted to use Darling to make it accessible to find these artists and creatives so that they can become more mainstream rather than to use it to shout about how unfair the world is to anyone who isn't a heteronormative cis man - although there's inevitably parts of that in there.
You make a point to promote creative "Womxn" with Darling Zine, why is this an important distinction that we need to make as consumers of music media?
I think that for many people it's easy to understand that women are given less opportunities and that we need to listen to female voices more but many forget that the non-binary, transgender community feel isolated from many industries too.
I also know people who are transgender and feel isolated from the feminist movement which they should never be. The issue with transgender or non-binary inequality is equally as important as cis women's issues. I just want to amplify their voices in a way that isn't checking boxes but rather just presenting their skills.
Given that zines seem to be making a comeback, how are you looking to make yours stand out and put your message across in the most effective way?
I think the fact that I'm already pretty involved in my local scene has helped. I've worked everywhere from the O2 Academy Newcastle to Northern Stage to Sage Gateshead so I've had my foot in a few doors that make me more confident in discussing music, art and film.
I'm also genuinely just really passionate about everything that you can find in Darling and I think that can be seen. Reading the work I get sent is so interesting and I love hearing everyone's perspective on the gender imbalance or how they create their work etc.
Have there been any other zines or specific projects that have influenced the creation of Darling Zine?
Honestly no, not really. I was just bored during lockdown and had gotten really stuck into my writing and decided that making my own publication along with the magazines and blogs I already write for would really help with my portfolio as well as being a really fun way to use my time. I like to be as busy as possible all the time and creating a magazine has definitely kept me busy!
I'm also a really social person which lockdown took away from me so by making Darling I was able to get in touch with new people I'd never spoken to or met before. It's been so lovely to meet so many like minded and inspirational people through this zine.
I'm really amazed that you've managed to pull this off during the lockdown, has it been as difficult as I imagine it was or has it surprised you?
It's been really hard and really easy at the same time. The first issue was great as I had so much time to create it and speak to different people but trying to promote and sell something at a time where people are really struggling already isn't the easiest thing in the world. I feel really lucky that I managed to sell every copy - especially for my first issue.
With Issue Two I already had the skills I'd learnt from teaching myself photoshop for Issue One so the stress was more the deadline I felt with moving to a new city soon - I didn't have all the time in the world this time around. This also impacts sales as I've had to make sure I had time to promote it - with Issue One so many people hadn't even realised it was available yet by the time I'd sold out.
What was the hardest part of putting a whole new publication together?
I mean there were a lot of challenges like learning photoshop that are inevitably part of the deal when starting a magazine. So, for me, the hardest part was probably deciding on a colour scheme because of how much of a perfectionist and how indecisive I can be. I love colours and designs and I knew straight away I wanted it to be heavily inspired by the '70s but that's a whole decade that ranges from psychedelic styles to more grunge styles. I love them all so Darling has ended up as this big amalgamation of those and modern aesthetics too.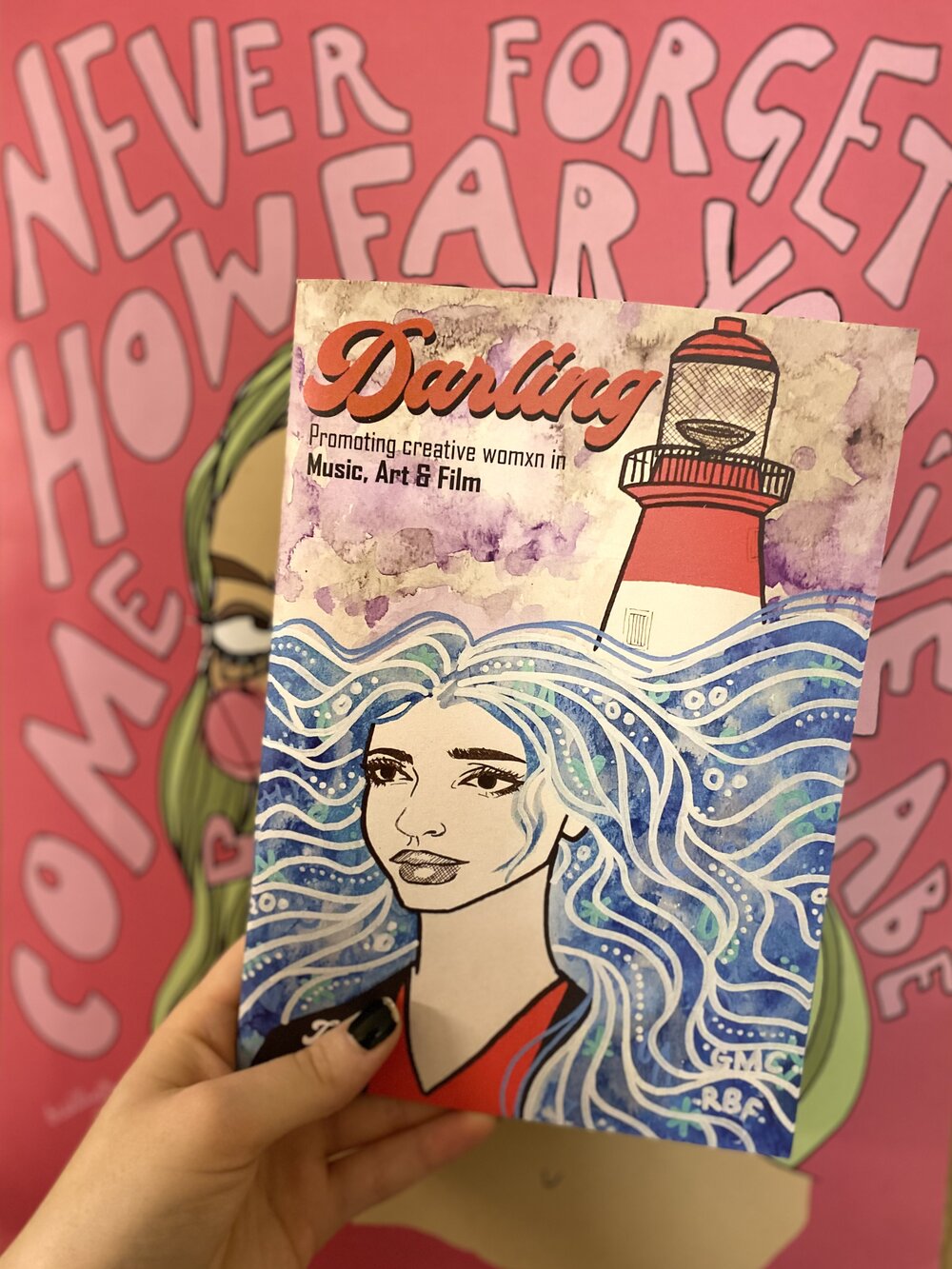 How did it feel to sell out of your first run of issues? What lessons have you learned since then? Whether it's in the process or how you promote the final product?
It was so rewarding! I didn't think it would ever happen but I'm really proud of myself. I think it's set me up for disappointment a bit with my next issues.
I'm still learning how to promote with only an online platform. When working in promotions I've always been able to use flyers and posters and put stickers all over Newcastle to get people's attention. While I can focus my efforts on reaching a wider audience outside of Newcastle (I've had buyers from New Zealand, Puerto Rico and elsewhere so far!) it's harder to get the attention of the people who I expect will be most likely to want to see it. I think I'm still learning about that balance.
From both the creatives featured within it and the readers, what has the reaction to your first issue been like?
All positive! My friends and family are always ready to give me feedback, whether that be good or bad, but everyone had only great things to say. I felt like I was my worst critic in that I knew I wanted to be more adventurous with design for Issue Two and include more creatives and vary the type of text to include stories and essays as well as interviews (which issue one focused heavily on).
When approaching the style and content of Darling Zine do you have a particular audience in mind? Have you adjusted this image following the reaction to your initial run or was the readership what you expected it to be?
When starting Darling I assumed that my target audience would be like minded women who wanted to learn more about the scene. While the majority of people who interact with the zine do fit this feminist women outlook, having looked at the statistics of who bought Issue One I noticed that 40% of sales actually went to men and I think that's really exciting. I want men to feel like it's accessible to them because, to me, feminism includes men - we need them to help our cause and we need to help fight their issues like these masculine ideologies that men don't cry etc.
If you could interview any artist - from any scene, whether it be music, film or art - who would it be? Why would they be so important to you?
Wow this is a really hard question. It's a bit cliché but possibly Emma Watson. As a child actress she's always used her platform to be vocal about issues of equality. I think with Harry Potter being so mainstream meant she could fully push the message that feminism doesn't mean anti-men it just means an equal standing for everyone. Watching her HeForShe speech at the UN was just awe-inspiring for me. As a young person who knew I was angry about inequality, seeing someone who I loved vocalise my own thoughts resonated with me.
I also really look up to Florence Given which you can tell if you take a look at the Darling Zine Instagram. She discusses so many topics that I think a lot of young feminists maybe hadn't even thought about. It's easy to know that women have this glass ceiling but beyond that takes more research. Reading her book, Women Don't Owe You Pretty, she discusses this idea of female competition, explaining we should "refuse to find comfort in other women's flaws". I think that's important because women are always pitted against each other when instead we should be celebrating each victory - I hope this celebratory message can be seen through Darling.
I'd also love to be involved with bands like Bikini Kill. Not only is their music kick-ass but they are considered to be the pioneer of the riot grrrl movement which influences both myself and many of the musicians I've featured in Darling.
What is the best way for people to support you on this project? Is there anyone you would love to collaborate with?
The best way for people to support me is to buy Darling. I've kept the price really low (only £4!!) so that it's not too out of reach for people. While this means that I can't make money from it, I think that's what has allowed me to sell so many with Issue One.
I'd love to collaborate with some local businesses! I want Darling to be everywhere and for you to walk into your local record shop or bookshop or whatever and see this lying around. If there are any companies who are looking to have a cool new zine brightening up their place, please get in contact!
How would you like to see Darling Zine develop over the next few years?
I hope that Darling can become bigger and better and more mainstream. Through this I'd want Darling to be able to feature even more wxmen than before and possibly extend the categories to more stories and opinion pieces within each section.
Selfishly I'd also love to be able to actually make some money from Darling because despite all of the writing I do I don't make a penny. It's such a passion of mine to be able to do all of this work and while my goal is to become a full-time journalist with a full-time wage, to support my time at Uni this would be an amazing way to do that rather than your typical retail job.
Finally, is there anything you'd like to say to any aspiring journalists and writers looking to start their own careers or projects?
Just do it! It's scary and it's stressful but it's so fun and fulfilling so just go for it.